Renderwow will support Rhino soon
Renderwow
- 8/11/17 4:00pm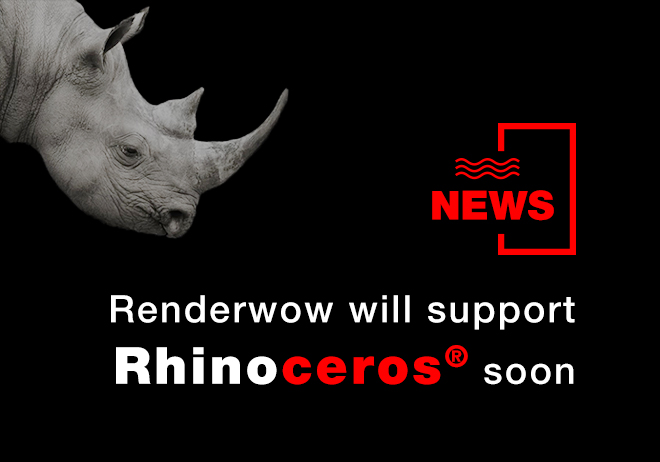 We're happy to announce that we will soon be supporting V-ray for Rhino 2014 and Rhino 2015. It's going to be one of our major updates this year for our rendering cloud and there will be many more to come. We are excited and happy to bring this amazing feature to all of you.
We also hope many of you are also excited and we would love to see many of your talented work.
Rhino is a 3D modelling program that caters towards many talented 3D artists. It's one of the top modelling programs out there and was developed by Robert McNeel and his associates. Rhinoceros geometry is based on NURBS mathematical model, which in then helps the user to generate and represent curves and surfaces. While using NURBS it then offers the flexibility and precision to the user's model to create more realism.
Rhino has been known to be used a lot in the design and manufacturing industry. Industries such as 3D printing, Interior Design, Architectural Design, Automotive Design, Product Design, Engineering, and so much more. With so many industries using and being so involved with Rhino, they have developed their program to be compatible with many other software. With easy compatibility, it has also been easily accessible to pretty much anyone with a basic computer as no special hardware is needed to run the program.
The huge beneficial part of using Rhino that separates itself from other 3D design programs is the NURBS aspect. With this, a user's accuracy towards their design has never been more precise. Whether it'd be just a prototype to the final product, Rhino is the program to use. It offers fast results with over one thousand design tools to use. Rhino is still growing and developing every day, and has had more than 40,000 pre-release users for their Rhino 5 and has been their most stable version ever developed.
It's one of the programs to use for accuracy towards modelling, and offers many tools to use for any users needs. Supporting large file formats and having an excellent user interface, we definitely would recommend Rhino as a prime choice. Thanks for reading everyone and happy modelling and rendering!