How to resolve when 3ds Max one or more user related files are damaged or lost?
Renderwow
- 5/10/18 16:00
3ds Max crashes when launched or using specific functions within the program, UI corruption, slow or erratic viewport manipulation, loss of keyboard shortcuts, material editor missing elements, issues linking and unlinking scene items, buttons are missing, and layer manager loses essential functions such as quad menu, delete, etc.
Solution:
Users can "reset" 3ds Max by deleting these "User files". 3ds Max will recreate them the next time it is launched. This process only affects the User profile that has been modified on that computer.
If needed, users can undo the procedure (by restoring the ENU file) if the following method is used.
How to remove the user profile:
1. Ensure that 3ds Max is not running.
2. Make sure you can view Hidden Files/Folders in Windows.
How to show hidden files:
If the folder "AppData" is not visible, follow these steps to display them:
(1) Do one of the following, depending on your Windows version:
a.In Windows 7, 8, or 8.1: Go to Windows Explorer > Tools > Folder Options > View tab.
b.In Windows 10: Go to Windows Explorer > Tools > Options > Change Folder and Search Options > View tab.
(2) Under Advanced Settings > Hidden Files and Folders, select "Show hidden Files, Folders and Drives."
(3) Click Apply to Folders.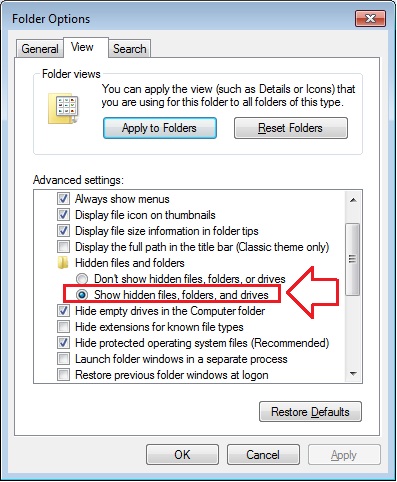 3. Rename the ENU folder to ENU_Old.
When 3ds Max is launched, a new ENU folder is created .If the issue is not resolved, you can revert to the previous settings by deleting the new ENU folder and renaming the old folder back to what it was.